On December 20, 1977 Van Batenburg's Garage opened up for business. It was warm for that time of year in Massachusetts. The shop I worked at all summer has closed and I had that American Dream of starting my own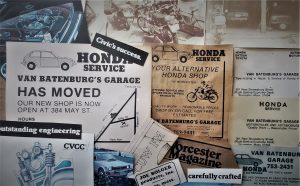 repair shop. I had about 450 dollars, a tool box, a 1959 VW bus and a fairly new 1975 CB400f motorcycle. Single (had a college girlfriend), no kids and a plan. I would be honest, work hard, charge low prices, specialize in Honda Cars and Motorcycles, Datsun and Toyota. My brother Clay painted a sign on an old piece of wood while I painted the inside of the shop white and gray. Two bays, no lift. Heat and electricity include in the rent for under $300 per month. The rest is history.
On December 20, 1950 a baby girl was born in Columbus, Ohio to Michael and Lillian Landy. Her name was Deborah K. Landy, now Deb Van Batenburg. We met years later in Boston. December has been a great month for me, as I also celebrate my birthday on the second day of December.
When Deb and I were dating in the late 80's when I found out when she was born. I was happy to know that I had been celebrating the twentieth for years and so was she. Now we combine those two events into a day of gratitude.
For those of you that started your own shop from scratch, I know that feeling.  Did you name it after yourself? Did you ever wonder why? America was built by dreamers. I hope all you dreamers out there, where ever you live, can have your dreams come true.
Imagine a world of peace, a life of joy, and someone to share it with. What more do you need?