Massachusetts Covid-19 guidelines have changed. Craig Van Batenburg (the founder and owner of ACDC) owns the ACDC building. It is 4,800 sq. feet. ACDC has a limit of 10 students per class so that we can deliver better training. Before you register, please note that ACDC no longer requires proof of a Covid-19 vaccine.
If you feel this policy may be a problem for you (you have an "immune" issue or some other reason), please contact Craig so we can accommodate you. We will try to put you in a class where everyone is vaccinated.    
Here you can see our Up Your Voltage Promotional Video from 2011.
"ACDC
exists to keep
Independent
Shops in Business"
"ACDC will make sure your 12 volt brain is well developed. Then we create a high voltage brain to use along with it. Where the two brains match up, the learning is easy, but sometimes ACDC will break the connection between the two, so your 12 volt brain is not used on a high voltage system."
Craig Van Batenburg, the CEO and founder, is good at taking the complex and making it easy to understand. ACDC creates unique classes that are delivered in person world wide. ACDC also uses the latest technologies to deliver training and education over the world wide web.
We believe people learn in many ways, so ACDC is flexible and creative.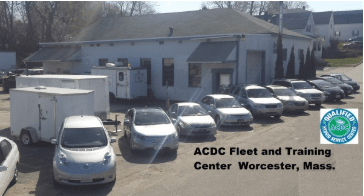 The ACDC Fleet from left to right; 2011 Nissan Leaf, 2011 Volt, 2000 Honda Insight, 2003 Civic HEV, 2005 Ford Escape Hybrid, 2007 Camry HEV, 2007 Toyota Highlander Hybrid AWD, Prius 2010, Prius 2004, Prius 2001 ….What is Missing? 2005 Accord HEV, 2006 Civic HEV, 2010 Insight, 2013 VW Jetta HEV, 2019 Kia Niro EV, 2014 Vectrix EV Motorbike, 2020 Tesla Model 3 AWD, and 2020 Zero SR/F Sport Motorcycle.