Snow. More than normal. You can complain or shovel it. Just like real life. I write this as I watch the snow come down again on March 1st preparing for yet again another snow event that will require shovels, snow blowers, winter boots and a lot of patience and some humor. Last April the ACDC fleet of hybrid and electric cars had a new member added to the ranks. 2007 Toyota Highlander Hybrid AWD and it has really earned its keep this winter. Lucky for us some standard equipment included electric heated seats.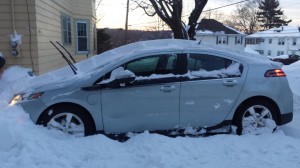 On to another subject, if you're not in our qualified hybrid shop program (QSP), go to our website and check it out and see if it's something your company could benefit from. More help for you. Electude is a company we have been working with for a number of years. If you have technicians that did not finish their formal education in automotive technology we have a great program where I coach and help your technicians via email, the Electude website, live webinars and one on one coaching when needed. All this for a thousand dollars a year. Payable in quarterly installments.
So I hope your winter is coming to an end and we can enjoy the sunshine the flowers, and get on with life with a little less effort. For those of you in the southern hemisphere I hope, as you get ready for winter, it is nothing like it was in Massachusetts. Thanks for being an ACDC customer and we hope your business continues to flourish as we all use less oil and more sunshine to power our cars.