Electric Drive (Automotive Instructors Only)
This is a 5 Day class held in Worcester, MA. The class is based on today's technology and teaching methods. What you are missing in your training will be answered.
5 Day HEV, PHEV, and EV at ACDC
$5,000 Includes meals, a hybrid or EV to drive, all handouts on a 10 gig jump drive, 3 ACDC EMV books in color, 6-night accommodation, over 30 hours of pre-training on the web, and ACDC hospitality. One more night at the hotel is included on the last day of class, if needed, at no additional cost.  
You will receive our 3 color eBooks and HEV 101, EV 101 and OEM webinars no matter where you live. The 3 books are Intro to Hybrid/EV, Tech Manual, and EMV College Level Textbook. That is over 30 hours of on-line training. If you do not finish the pre-study, the codes will allow you to study for 3 more months when you return home. At the training center it's all hands-on training.
This class is exclusive to automotive instructors only. It is typically scheduled monthly so please check with the office to find a date that fits your schedule. 
The travel day is Sunday. Once you get to your accommodations we will meet at the hotel at 8PM for a social gathering.
What Makes a Hybrid different from a conventional car?

Safety & Equipment

Using a Honda Civic (2003 – 2005) Hybrid for your introduction to your students

HV Battery Systems & NiMH
Toyota Prius (2004 – 2009) 

DC-DC Converter Operation

Prius Transmission Construction and Function

ICE … LIVC (Atkinson Cycle) 

Electric Air Conditioning Compressor
Instructor is Craig Van Batenburg, CMAT, L1, and L3 Certified
We accept PO's, AMX, Visa, Mastercard, Discover, and a check 30 days ahead of time.
Chevy Volt (2011 – 2015)

3-Phase Motor/Generator

Inverter & Regeneration Controls

Grid Charging Systems

HVAC
Nissan Leaf (2011 – 2012)

Regenerative Braking

High Voltage Battery Packs … Li-ion 

Li-ion Cell Balancing

DC Fast Charging

You will be UTube Certified too!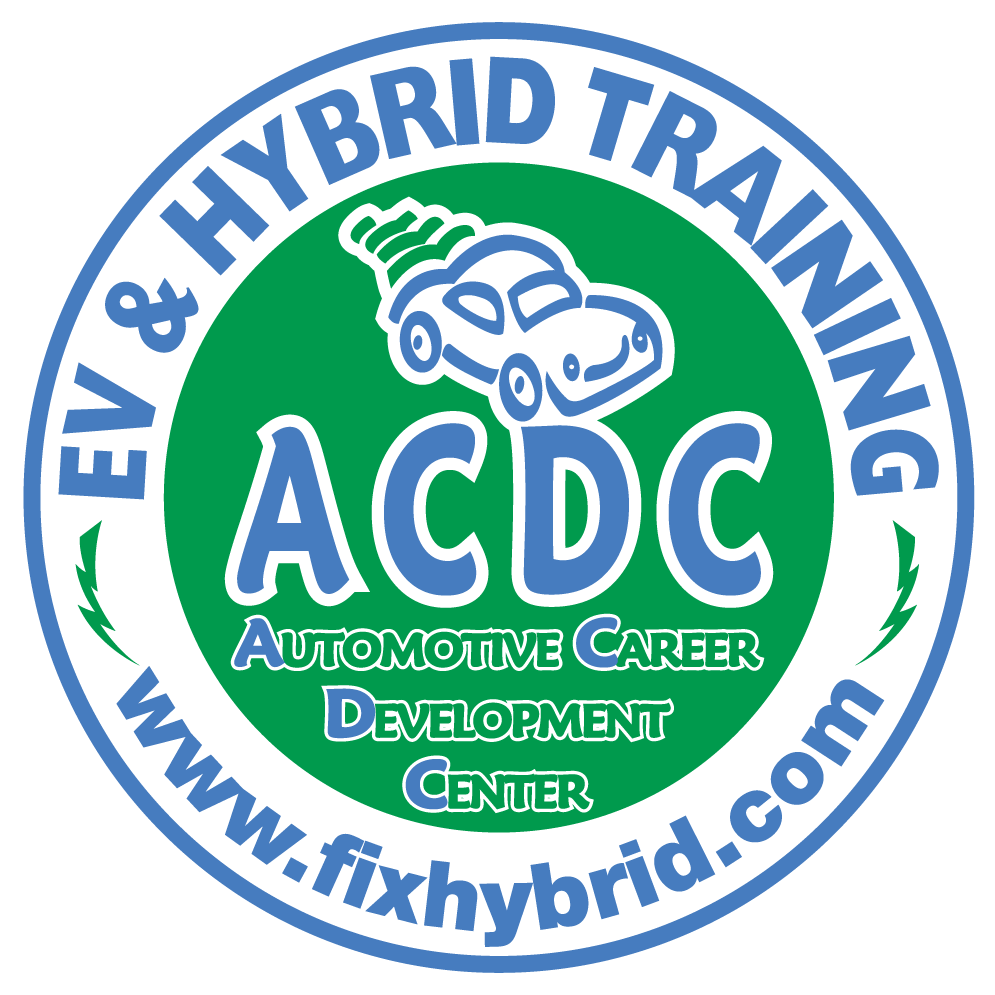 Kia Niro EV (2019 – 2022)

Heat Pumps

Fast Charging … CCS

Curriculum Writing

Test Question Writing

Education Support Program (ESP)

Wrap Up Session
ACDC includes one more night at the hotel. Fly out later on Saturday.