Week Two of Electric Drive is all about Electric Vehicles
ACDC owns a Chevy Volt, a 2011 Nissan Leaf, a 2019 Kia Niro EV, a Tesla 2020 Model 3 AWD long-range, and a 2020 Zero EV motorcycle were added as well. A 2014 Vectrix EV 40 mph scooter joined the fleet a few years back.
All of the ACDC fleet of EVs and PHEVs will be here. Get yourself to Massachusetts and spend a week studying, driving, testing, scanning, scoping, servicing, and taking these EVs apart. All I ask is that they run when you leave. ACDC has lots of parts to work with, scan tools, and scopes. The class is based on today's technology and teaching methods. What you are missing in your training will be answered.
Borrow an ACDC vehicle and see New England (have your spouse fly into Worcester for the weekend. Take the train to Boston and learn the history of our founding Fathers and Mothers. Lots to do here. Everything is a short drive away.
The Second Week of a Two-Week Class PHEV and EV at ACDC
$5,000. If you've taken part one, you already have the books, handouts, and jump drives. Includes 6-night accommodation. and ACDC hospitalityIncludes meals, a hybrid or EV to drive. If you haven't taken week one you will receive all handouts on a 10 gig jump drive, 3 ACDC EMV books in color. One more night at the hotel is included on the last day of class, if needed, at no additional cost.
There is no requirement to pre-study, but you can. We will send you codes for our pre-recorded HEV and EV training, which is done online. Just request it and we will send them via Email.
This class is exclusive to automotive instructors only. Please check with the office to find a date that fits your schedule.
The travel day is Sunday. Once you get to your accommodations we will leave a car at the hotel at 8PM for your transportation.
This day's topic is the Chevy Volt (2011 – 2015)
Power Flow / Safe Down
eCVT / 4 Modes of Operation
Inverter / On-Board Charger / Two DC-DC Converters
J1722, SEBOB Tool and Pico Scope / How HV Battery Charges from AC
HV Battery / Cell Balance / HV Heater in pack
Cabin Heating
The first day was the introduction. Today the Nissan Leaf is carefully examined. The Leaf HV pack will be taken apart and the entire driveline from another Leaf has been set up for you to see and learn from. You will scan the EV and scope the J1772 connector with a PICO scope and the ACDC break-out-box we call a SEBOB.
As teachers, we will discuss what some high schools and colleges are doing to add EV into their courses. Also will explain why jump-starting an EV can be detrimental to the high-voltage system. Specialized test procedures that were created at ACDC will be taught and you can practice while you are here.
Safe Down / Power Flow / CHAdeMO Fast Charging
Drive Motor / Earth ground to rotor shaft / Gear Box
On Board Charger
Junction Box / Inverter / DC-DC Converter
Rebuilding HV Battery Packs / Cell & Module Testing
Leaf battery Upgrades and Swaps
Instructor is Craig Van Batenburg, CMAT, L1, and L3 Certified
We accept PO's, AMX, Visa, Mastercard, Discover, and a check 30 days ahead of time.
Today is the 2019 Kia Niro EV. What is new here? Heat Pumps are a better way to heat the cabin.  This is a typical modern EV, and today's class will set you up for many front-wheel-drive less expensive EVs.
Safe Down / Power Flow
HVAC Heat Pumps and other Cooling and Heating Systems
CCS Fast Charger
Utility Mode
Knowing how EVs charge off the grid is important. Tesla, in early 2022, allowed the aftermarket to access service information and sold a Tesla scan tool. That is what ACDC was waiting for. Tesla training was included in our classes in the fall of 2022. We have many parts and the factory Tesla scan to use in class. Tesla will be taught on day 4. This is your future. Consider this the day we look into the immediate future.
Safe Down / Power Flow / Cell arrangement
Cabin Cooling and Heating System
Tesla Level I, II, and DCFC
Jump starting when equipped with 15V Li-ion small battery
Octovalve
Preventative Maintenance

You will be UTube Certified too!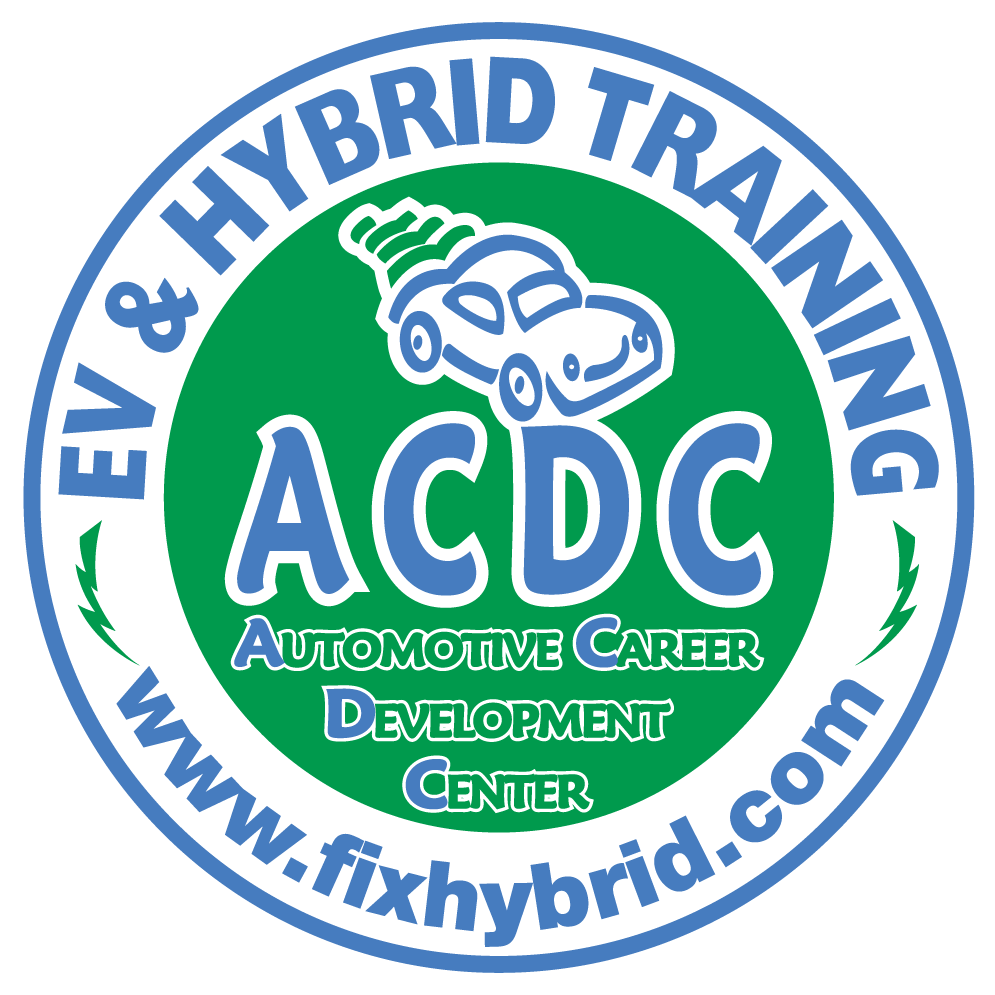 We will review carefully what we did as teams over the last 4 days and each team will present a "teachable moment". The list of "What I wanted to learn" will be reviewed.  A good wrap-up session. More training on what he missed or the class feels they need more of. Fuel cells will also be included if FCEVs are sold where you live.  After lunch is a written test. It will be corrected in class and any wrong answers will be gone over again. A group photo, and at 4:45 pm it is graduation time. Your mind will now be ready for EV classes.
Sales of EVs / Barrieres to Adoption
Greening the Grid
Towing / Jump Starting / Preventative Maintenance
Get caught up on any items above
Review College Book
What ACDC Sells / Price Sheet
Graduation at 4:45PM and Class ends at 5PM