What is an Emv? An EMV is any car with an orange cable. This is a 3 Day class held in Worcester, MA. Limited to 4 people. The class is based on today's technology and teaching methods. What you are missing in your training will be answered.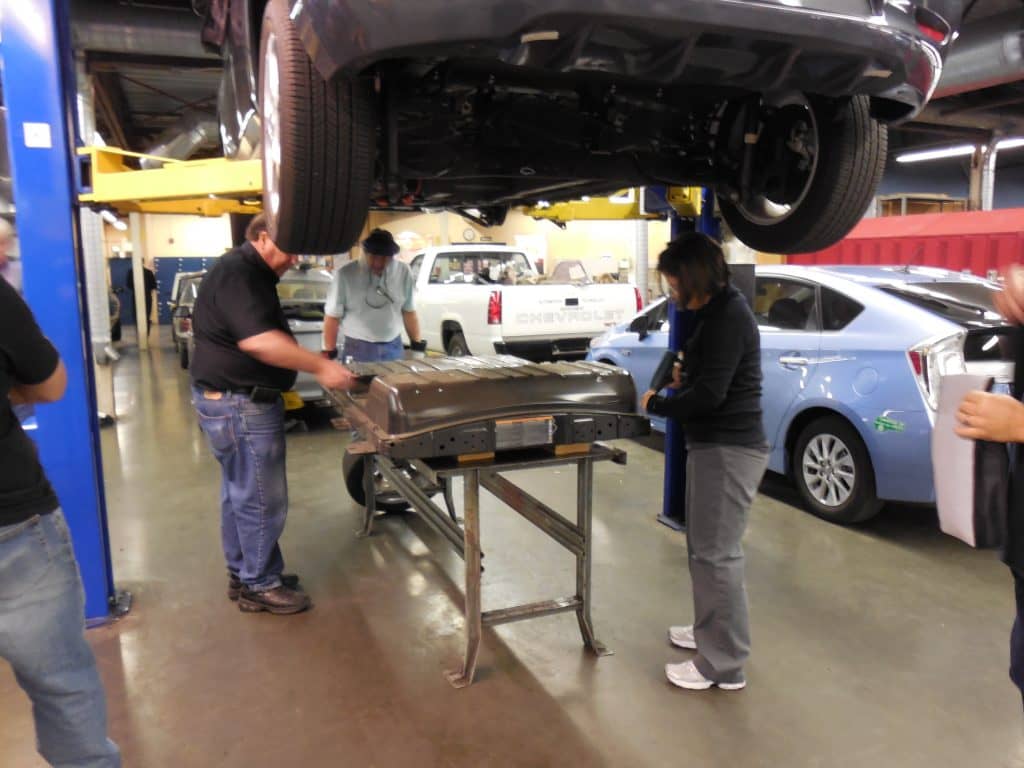 This 3 day class is always being recreated as the technology of HV batteries is a moving target. ACDC has a huge battery collection, over 14 hybrids and EVs and our own cut-aways. Want to learn what repairs can be done on a NiMH and Li-ion high voltage battery pack? Get to this class. Hands on, as the theory (classroom part) is done online, before you arrive.  After teaching hybrid technology in classrooms since 2000, and EVs for over 10 years now, ACDC will not bore you with useless information.
3 Day HEV, PHEV, and EV at ACDC
$3,500 Includes meals, a hybrid or EV to drive, all handouts on an 4 gig jump drive, 3 ACDC EMV books in color (Intro to Hybrid/EV, EV Color Manual, and EMV College Level Textbook), 3 night accommodation, over 30 hours of pre-training on the web and ACDC hospitality. A hotel at the airport for the last night is about $110. If you fly out after 8pm the last day you will be fine, or spend the night at the airport and fly the next day.
You will receive our 3 color books (if you live in USA) and HEV 101, EV 101 and OEM webinars no matter where you live. The 3 books are Intro to Hybrid/EV, EV Color Manual, and EMV College Level Textbook. That is over 26 hours of on-line training.  If you do not finish the pre-study the codes will allow you to study for 3 more months when you return home. At the training center there is a 50/50 split between hands-on and class time.
Travel day

is getting to your Accommodation and getting ready for class in the morning.
Meet at the ACDC training center for hands on work. We will cover; What Makes a Hybrid different from a conventional car?  An Overview.  Safety, Service, Equipment needed and Maintenance Issues, HV Battery Systems.. NiMH and Li-ion.  Electric Power Steering, DC-DC Converter operations.
3 Phase Motors. Motor / Generator Controls, the Inverter. Prius CVT and Volt CVT. Regenerative Braking. High Voltage Air Conditioning systems, Heating, Other cooling systems.
Instructor is Craig Van Batenburg, CMAT, L1, and L3 Certified
We accept AMX, Visa, Mastercard, Discover and a check 30 days ahead of time.
Location: 24 Wells Street, Worcester, Massachusetts USA
 Grid Charging, Electric cars, and more training.